Outbreak prompts 400,000 to petition Korean president to outlaw religious movement deemed a cult by Christian leaders.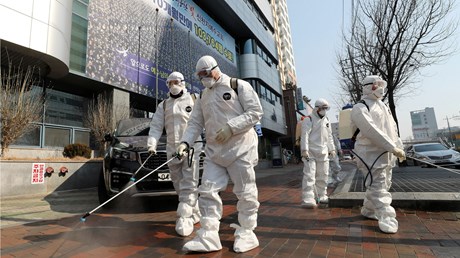 SEOUL — A sect whose leader claims he is an angel of Jesus has become the biggest cluster of coronavirus infections in South Korea, where a surge in new cases of COVID-19 raises fears that the outbreak is getting out of control.
South Korea's president said Sunday that he was putting his country on its highest alert for infectious diseases, ordering officials to take "unprecedented, powerful" steps to fight a soaring viral outbreak of 977 cases and 10 deaths as of February 25, mostly linked to a single congregation and a hospital.
Globally, nearly 78,000 people have been infected in 29 countries, and more than 2,300 have died.
About half of those infected have been directly linked to a single house of worship, a Daegu branch of the Shincheonji Church of Jesus—viewed as a cult movement by mainstream Christian organizations—where a woman in her 60s attended two services before testing positive for the virus.
Officials are also investigating a possible link between churchgoers and the spike in infections at the Cheongdo hospital, where more than 110 people have been infected so far, mostly patients at a mental illness ward.
Health officials were screening some 9,300 church followers, and said that 1,261 of them have exhibited cough and other symptoms.
Among them, four had traveled abroad in recent months, including one to China, although that trip came in early January and was not near Hubei.
All 74 sites operated by the Shincheonji Church have been closed and churchgoers have been told to instead watch services online for a sect whose leader claims to be an angel of Christ, but who is dismissed by many outsiders as a cult leader. Its teachings revolve largely around the Book of Revelation, a chapter …

Source: 500 of Korea's 1,000 Coronavirus Cases Tied to Shincheonji Church