Politics remain divisive, but churches seek unity in prayer.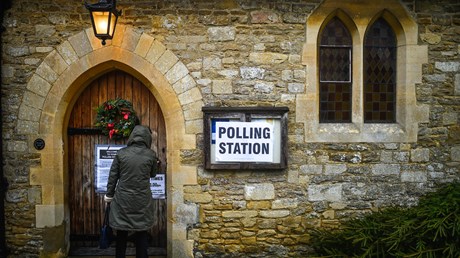 British evangelicals are divided over Brexit. The January 31 deadline for the nation's departure from the European Union is fast approaching, and Thursday's elections gave the Conservative Party a historic victory and "a powerful new mandate to get Brexit done," according to Prime Minister Boris Johnson. As evangelicals absorb the news, they are grappling with the political tumult, the ongoing uncertainty, and the question of what a Christian should do in these difficult times.
The Evangelical Alliance of the United Kingdom (EAUK) has been urging everyone to pray, posting a prayer to social media every Thursday "to ask God for His peace, grace and guidance." It's an effort at unity amid division. The EAUK has remained "studiously impartial" on Brexit, "to reflect the diversity of political opinions" among evangelicals, according to spokesman Danny Webster.
If there's a chance to come together, Webster believers, it's in prayer. "We can pray for wisdom for our leaders," Webster told CT, "whether we agree with them or not."
Britain itself has been deeply divided over the plans to leave the European Union. In 2016, 52 percent of the population voted for leave. Debates about how to do that, exactly, have roiled UK politics ever since, as two successive prime ministers struggled to negotiate a divorce with the EU that can also get approved by Parliament.
A slight majority of evangelicals voted remain. According to a 2016 study immediately before the vote, 51 percent supported staying in the EU, 27 percent wanted Brexit, and 22 percent were undecided. In the last three years, British evangelicals across the spectrum have expressed …

Source: British Evangelicals Brace for Brexit