With a prayer tent going up in Beirut square, participants see a "spiritual dimension" to anti-corruption demonstrations.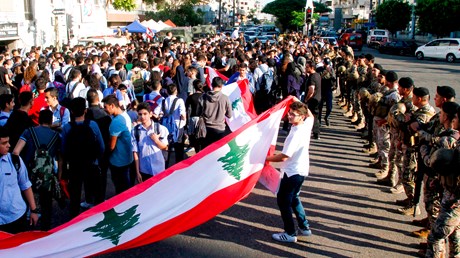 At first, it was two high school girls.
The education minister in Lebanon had just canceled classes nationwide due to an explosion of popular anger at proposed taxes. Public squares in Beirut and other cities swelled with demonstrations. The two students asked Steve White, principal of the Lebanese Evangelical School (LES), if he would join them and protest alsotoo.
White, a Lebanese citizen since 2013, became principal in 2000, succeeding his English father who'd held the post since 1968. Founded by a British missionary in 1860, LES preaches the gospel clearly and is one of the top schools in Lebanon. But it bucks the sectarian trend of community enclaves as 85 percent of its students are Muslim—most coming from the Shiite community. Discussion about religion and politics is forbidden.
The protests began October 17. At the height of student interest, White arranged four school buses for a unique civic education. Though he knows his students well, he couldn't tell their breakdown by sect: Sunni, Shia, or Christian.
Which fit perfectly with the protests.
"I got excited because it was not religious," said White. "It was nonsectarian: all of Lebanon together, no flags, no parties, they were cursing everybody."
White did not approve of the cursing. But he did of the "everybody." The slogan adopted by protesters: "All of them means all of them." It targeted the leaders of Lebanon's multiple religion-based political parties, accusing them all of corruption.
Transparency International ranked Lebanon No. 138 out of 180 in its 2018 corruption perception index, listed from clean to corrupt.
Traditionally viewed as the guardians of each sect's interests, Lebanese …

Source: Split the Cedars of Lebanon: Evangelicals Balance Prayer, Protest, and Politics in Ongoing Uprising