And why advocates say US commitment to the cause cannot let up now.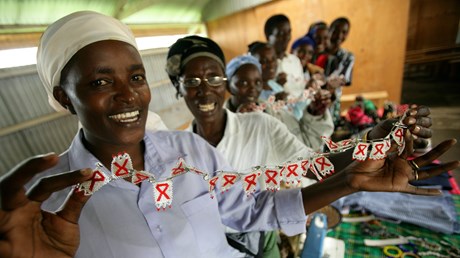 On the 32nd commemoration of World AIDS Day, Christian groups remember their role in leveraging political will to create a transformative global public-private partnership that has shaped the trajectory of AIDS pandemic.
Last month, global political leaders finalized commitments to the Global Fund to Fight AIDS, Tuberculosis, and Malaria, extending funding through 2023. The Global Fund, founded in 2002, received a boost the following year when President George W. Bush established the President's Executive Plan for AIDS Relief (PEPFAR), a US initiative that evangelicals championed and played a critical role in drafting.
The 2019 documentary 27 Million Lives showcases how evangelical organizations and musicians like Michael W. Smith helped promote awareness for the cause, resulting in PEPFAR's broad support from across the faith community and both parties. The film's title references the estimated number of lives saved since 2004 because of the work of organizations receiving PEPFAR funds, beginning with a $15 billion commitment over five years.
PEPFAR and the Global Fund "are not any one president's program, not any one party's program," said Michael Gerson, who served in the Bush White House, in the recent documentary. "They really are the American people coming together to do something amazing in the world."
Several humanitarian groups who have been involved with the campaign—like World Vision, World Relief, and Food for the Hungry—have spoken up in recent years against proposed cuts to foreign aid under an "American First" budget and have defended the country's continued role in the eradication of AIDS around the globe.
When President Donald …

Source: How PEPFAR Galvanized Christians in the Fight to Eradicate AIDS