The UMC has decided to relocate its 2024 General Conference from Manila, Philippines.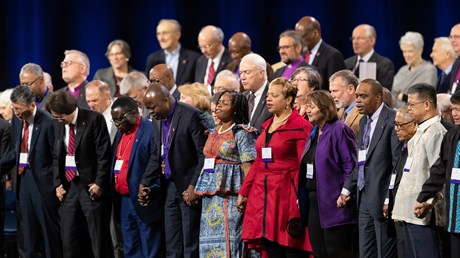 The United Methodist Church has scrapped plans for its first General Conference meeting outside the United States.
The global denomination had been planning to hold the 2024 meeting of its decision-making body in Manila, capital of the Philippines.
But plans for a meeting there, first announced in 2015, are now off.
Sara Hotchkiss, business manager for the Commission on General Conference, said organizers could not find convention space available for two full weeks to host the gathering of United Methodists from around the world.
So the General Conference will be held elsewhere.
"No one has done anything wrong, or there's no reason not to go. It's just simply when we did a bid process, the facilities needed for the length of our conference were not available," Hotchkiss said.
The business manager said the commission, which chooses the locations for and plans the denomination's quadrennial meeting, had not received any bids from facilities it had contacted during the bid process to host the meeting.
Those bids were due in early July, she said.
Bishop Rodolfo Alfonso "Rudy" Juan of the Davao Area in the southern Philippines — the commission member who initially had invited the General Conference to the Philippines — told the United Methodist News Service (UMNS) the decision made him "sad."
"I spoke passionately about my disappointment in this decision," Juan said. "I did not support the cancellation, but I respect the decision."
Finances and the "current climate in the church" did not play a role in that decision, the Gary George, secretary of the commission, said in the UMNS report.
The United Methodist Church is the second-largest Protestant …

Source: Methodists Cancel Plans for First Big Meeting Outside US