Secretary of State Mike Pompeo explains to CT why the State Department is hosting a second Ministerial to Advance Religious Freedom this week.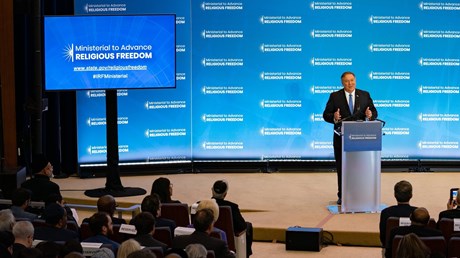 CT: Why hold a second ministerial on religious freedom?
Pompeo: This is America's first freedom, and we want to work to make sure other countries understand how central it is to the individuals that are in their country to have the opportunity to worship as one chooses or chooses not to worship, and to know that their government is not going to restrict, impose, impede, or punish those activities is central to human dignity. And so we believe that here at the State Department, we can lead this conversation. We can encourage other countries to recognize this most fundamental human right. And when we do so, we will make life better for millions and millions of people around the world.
What successes came out of the first ministerial?
We saw a couple of things. First, we saw a marked increase in the level of discourse around this as a central right. Lots of conversations. It spurred satellite groups and others to hold similar related conversations inside their own countries. In November of 2018, we sponsored something with the United Kingdom; in February 2019, the United Arab Emirates hosted a conference to discuss the challenge of promoting interfaith understanding. The list is long. There were examples in Taiwan and other places where the elevation of the conversation has taken place. And we've actually seen governments continue to increase the place they put, inside of their own decision-making process, the central notion of religious freedom. There is more work to do, for sure, which is why we'll hold the ministerial again this year. We think this is an ongoing process that is very, very important.
Between this ministerial and last year's, what's been improved upon or changed?
We think two things. …

Source: Pompeo: Why We're Hosting the World's Biggest Event on Religious Persecution