Bethany Christian Services pledges to keep recreation and education offerings for unaccompanied minors in its care, even if federal funding goes away.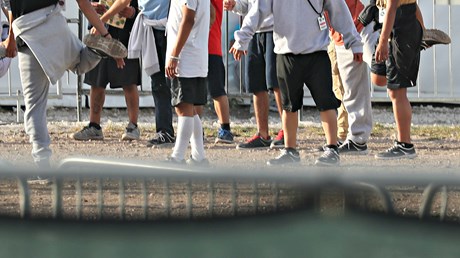 As the federal government threatens to stop funding English lessons, soccer games, and other programs deemed "not directly necessary" for migrant children in US care, Christian groups have defended the crucial role of these activities and pledged to keep them going for kids whose lives have been turned upside down by instability.
"These services are a child's basic right and vitally important to the health and development of these children," said Dona Abbott, vice president for refugee and immigrant services at Bethany Christian Services (BCS), which cares for around 200 unaccompanied minors in five states.
The Michigan-based evangelical adoption and foster agency said in a statement that it plans to continue privately funding "recreational or educational activities for unaccompanied minors in our care" if the government withdraws its support.
Last week, the Washington Post reported on Trump administration plans to end funding for educational offerings, recreational activities, and legal aid services for unaccompanied immigrant minors. The US Department of Health and Human Services later classified those services as "not directly necessary for the protection of life and safety."
State governments and Christians working with unaccompanied minors have pushed back against the decision, and HHS filed a request for $3 billion to keep the migrant shelter program funded beyond June, when it is set to run out of money, Abbott told Christianity Today.
"We're really, really hopeful that Congress will enact the supplemental funding requests," she said.
Unless additional funding comes through, the federal agencies must scale back on non-essential services to avoid spending …

Source: Christian Agencies Fight for Migrant Kids' Right to Play