The Chicago musician begins his first sabbatical with a famous 80-year-old devotional.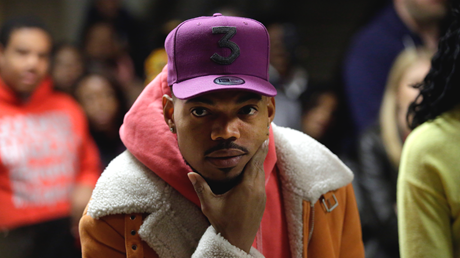 After years of referencing his Christian faith on social media and in his Grammy-winning hip hop albums, Chance the Rapper has set out on a sabbatical to study and meditate on God's Word.
He shared a glimpse of his morning devotions—a page from Scottish theologian John Baillie's A Diary of Private Prayer—with 9.2 million followers on Instagram on Monday.
The 25-year-old rapper posted a picture of the second day of the devotional, a prayer entitled "Continued Dependence Upon You" [full text below].
A Diary of Private Prayer reflects the personal religious practices developed by Baillie—a longtime seminary professor and church leader in Edinburgh in the mid-20th century. He and his brother Donald were considered among the greatest meditating theologians of their day. The book has sold more than a million copies in 20 languages since it was released in 1937.
Chance's venture into Baillie's best-known work comes a few days after the musician told fans he'd be traveling out of the country on his "first sabbatical" and would be dedicating the time away to studying Scripture.
"I'm going away to learn the Word of God which I am admittedly very unfamiliar with. I've been brought up by my family to know Christ but I haven't taken it upon myself to really just take a couple days and read my Bible," he stated.
"We all quote scripture and tell each other what God likes and doesn't like but how much time do we spend as followers of Jesus to really just read and KNOW his Word. I'm definitely guilty of not devoting time to it."
Chance said he hopes to read five or more books of the Bible during the sabbatical (and also …

Source: Chance the Rapper Shares a 'Private Prayer' from His Bible-Reading Break